Our photos are finally here!
Enfin, voici nos photos !
Unsere Fotos sind endlich da!
Let's start with our latest memories of Japan.
Commençons par nos derniers souvenirs du Japon.
Beginnen wir mit unseren letzten Erinnerungen an die Zeit in Japan.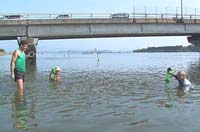 Towards the end of August, Tim and Norie took us clamming at Lake Hamanako--a very Hamamatsu-like summer pastime. Click the image to see more pictures of that.
A la fin du mois d'août, nos copains Tim et Norie nous invitaient à la pêche aux coquillages au lac Hamanako, une activité estivale traditionnelle pour les habitants d'Hamamatsu. Cliquez sur l'image pour en voir d'autres.
Gegen Ende August luden unsere Freunde Tim und Norie uns zur Muscheljagd am Hamanako-See ein: eine typische Sommeraktivität für die Einwohner der Stadt Hamamatsu. Klickt das Bild an, um deren mehr zu sehen.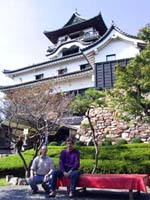 At the end of October, after ten years, we finally came around to visiting Inuyama castle with our friend Peter. Click the image to see an enlargement of this photo.
A la fin du mois d'octobre, après une décennie, nous avons enfin eu l'occasion, de visiter le château d'Inuyama, accompagnés par notre copain Peter. Cliquez sur l'image pour en voir un agrandissement.
Gegen Ende Oktober schafften wir es endlich (nach zehn Jahren) mit unserem Freund Peter das Schloss Inuyama zu besichtigen. Klickt das Bild an, um es Euch vergrößert anzusehen.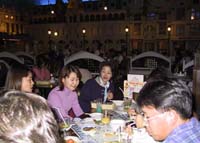 At the beginning of November, Mari's relatives started the first round of farewell parties. Click the image to see more.
A la fin du mois de novembre, la famille de Mari lança la première fête d'adieu. Cliquez sur l'image pour en voir d'autres.
Gegen Ende November luden Maris Verwandte zum ersten Abschiedsfest ein. Klickt das Bild an, um mehr von diesem Fest zu sehen.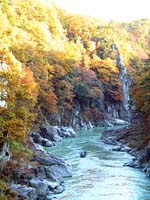 The day after the farewell party at the Grand Place in Nagoya, Mari's uncle Takeo and aunt Kinu took us on an autumnal boat ride down the Tenryu river. Click the image to see a little more of that.
Le lendemain de la fête d'adieu à la Grand-place, oncle Takeo et tante Kinu nous emmenèrent pour une descente automnale du Tenryu. Cliquez sur l'image pour en voir un peu plus.
Am Tag nach der Abschiedsfeier am Grand Place in Nagoya haben Maris Onkel Takeo und Tante Kinu uns zu einer herbstlichen Abfahrt des Tenryus eingeladen. Klickt das Bild an, um davon ein bisschen mehr zu sehen.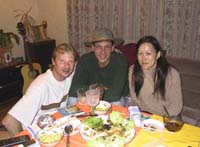 Last but certainly not least came the farewell party at Tim & Norie's place. If your memory of this event should be a little blurred, click on the image to refresh it.
La super fête d'adieu fut celle organisée par Tim et Norie. Cliquez sur l'image pour en dévoiler quelques scènes.
Die absolute Abschiedsfeier fand bei Tim und Norie statt. Klickt das Bild an, um mal eben reinzuschauen.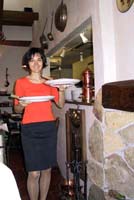 It's not without regrets that we paid our last call to Le Due Campane for the best pizza in Hamamatsu and the whole wide world. Click the image to see Taka and Monica in action.
Ce n'est pas sans regrets que nous avons rendu notre dernière visite à la meilleure pizzeria du monde, celle de nos copains Taka et Monica. Cliquez sur l'image pour les voir en action.
Heute noch sehnen wir uns nach Takas und Monicas Pizza. Klickt das Bild an, um die Eigentümer der weltweit besten Pizzeria in Action zu sehen.
What better time to move to the U.S. than right before Christmas?
Notre arrivée aux E.-U. quelques semaines avant Noël
Es weihnachtet schon bei unserer Ankunft in Amerika.
Meet our friends and helpers in our new homeland and catch a glimpse of Christmas California style. (OK, you know the deal with clicking on the images by now.)
Rencontrez les amis qui nous ont aussi chaleureusement accueillis dans notre nouvelle patrie et découvrez Noël style californien. (Entre-temps, vous aurez appris qu'il faut cliquer sur les photos.)
Macht die Bekanntschaft der Freunde, die uns in unserer neuen Heimat so großzügig und hilfreich empfangen haben, und entdeckt Weihnachten nach kalifornischer Art. (Den Trick mit dem Anklicken der Fotos kennt Ihr ja inzwischen.)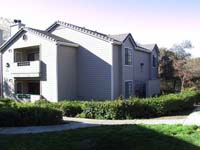 See our new abode and what it looked like before we moved in. (Towards the end, you will be able to see what it looks like now.)
Venez voir notre nouvelle demeure et à quoi elle ressemblait avant. (Vous verrez plus bas à quoi elle ressemble maintenant.)
Werft einen Blick auf unsere neue Bleibe, wie sie vorher war. Weiter unten wird dann auch die Nachher-Version zu sehen sein.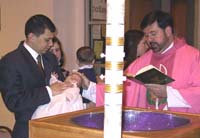 After finding a new home, it was already time to leave it behind and to move on to Indiana, where Mary Kate's baptism was awaiting us. (Don't forget to click that photo if you want to see more.)
Après avoir trouvé un appartement, il était temps de rejoindre la famille de Mari à l'occasion du baptême de Mary Kate. (N'oubliez pas de cliquer sur la photo.)
Kaum war die Wohnungsjagd vorbei, da mussten wir schon ab nach Indiana, wo uns die Taufe von Maris Nichte Mary Kate erwartete. (Weiter schön das Bild anklicken.)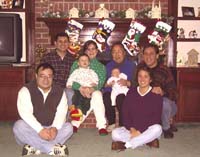 Fortunately enough for us, the Wards had to move their Christmas party forward this year, so that we got to celebrate Christmas twice--once with them and one more time in Belgium.
Heureusement pour nous, la famille de Mari fêtait Noël avec une semaine d'avance cette année, ce qui nous valut deux réveillons : l'un chez eux et l'autre chez nous.
Zum Glück mussten die Wards dieses Jahr ihre Weihnachtsfeier um eine Woche vorverlegen, was uns ein doppeltes Weihnachtsfest bescherte: In Maris Familie und in meiner.
Our Christmas holidays in Belgium
Vacances de Noël en Belgique
Weihnachtsferien in Belgien
Belgium decided to treat us with a White Christmas like we hadn't seen in years. (Click to check out the parties we had there.)
C'est un Noël blanc et en famille que la Belgique nous réserva. Ce fut des années que nous n'avions plus vu ça ! Cliquez vite et rappelez-vous Noël à St-Vith et à Weweler.
Weihnachten daheim im Schnee - das hatte es für uns schon lange nicht mehr gegeben. Nun klickt schon und seht die Weihnachtsfeste in St. Vith und Weweler wieder!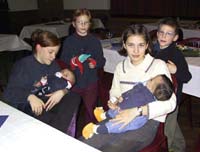 There was a baptism in Belgium too: the one for my sister's twins.
Autre grand rassemblement familial : le baptême de Manik et Miro.
Eine weitere große Familienzusammenführung fand auch zum Anlass der Taufe von Manik und Miro statt.
Life goes on in Folsom, California
Suite de l'épisode Folsom en Californie
Fortsetzung des Lebensabschnitts "Folsom, Kalifornien"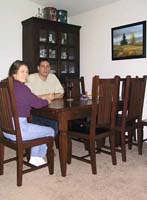 Click this picture to see what we have made of our apartment in the meantime. This may explain why you might not have heard much from us in a while.
Cliquez sur cette image afin de découvrir ce qu'est devenu notre appartement entre-temps. C'est entre autres la raison de nos longs silences.
Durch Anklicken dieses Bildes könnt Ihr nun erfahren, was inzwischen aus unserer Wohnung geworden ist. Vielleicht erklärt das zum Teil unsere langen Meldungspausen.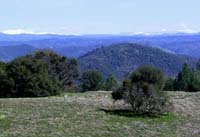 Now join us on a little tour of our neck of the woods: the city and lake of Folsom, nestled in the Sierra foothills.
Accompagnez-nous ensuite pour un petit tour guidé de notre environnement : la ville et le lac de Folsom, situés au pied de la Sierra Nevada.
Begleitet uns nun noch schnell auf eine kleine Rundfahrt durch unsere neue Heimat: Folsom Stadt und See am Fuße der Sierra Nevada.
You have reached the end of our photo diary. We hope that you had fun discovering and remembering with us. Talk to you later, Benoît & Mari
Drop us a line if you like.
Malheureusement, c'est la fin de cet album photo. Nous espérons que vous aurez pris plaisir à découvrir, voire redécouvrir avec nous. A plus tard, Benoît et Mari
Envoyez-nous un message si vous voulez.
An dieser Stelle schließt sich nun das Fotoalbum. Wir hoffen, dass Ihr Spaß am Entdecken und Wiedererleben hattet. Viele Grüße, Benoît und Mari
Schreibt uns eine E-Mail, wenn Ihr wollt.