This is the battlefield. Norie and her crew had prepared an awesome buffet. The conversation was heated. The participants from left to right: "Mike", Norie, Isaac, Iida-san, Paul, and Véronique.
Voici le champ de bataille. Norie et son équipe avaient préparé un fantastique buffet. La discussion fut animée. Les participants de gauche à droite : "Mike", Norie, Isaac, Iida-san, Paul et Véronique.
Das Schlachtfeld. Norie und ihre Mannschaft hatten ein fantastisches Buffet zusammengestellt. Die Diskussion war lebhaft. Die Teilnehmer von links nach rechts: "Mike", Norie, Isaac, Iida-san, Paul und Véronique.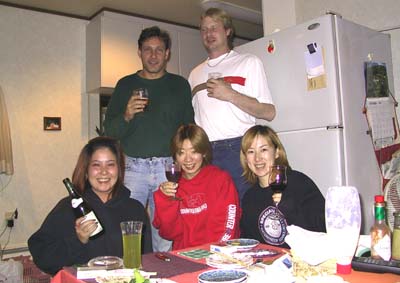 The other side of the party room with (clockwise) Tim, Norie's sister Ki-ko, her sister's friend Mariko, a friend of Isaac's, and me.
L'autre côté de l'assemblée avec (dans le sens des aiguilles d'une montre) Tim, Ki-ko (la soeur de Norie), son amie Mariko, une amie d'Isaac, et moi.
Der andere Teil des Partygeschehens mit (im Uhrzeigersinn) Tim, Nories Schwester Ki-ko, deren Freundin Mariko, eine Freundin von Isaac und ich.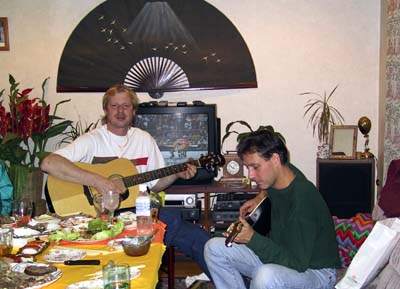 At Tim's place, not a party worthy of that name would not have included a little guitar session.
Chez Tim, aucune fête digne de ce nom ne se serait terminée sans que nous ayions gratté quelques notes sur nos guitares.
Bei Tim hat niemals eine richtige Feier stattgefunden, auf der wir nicht wenigstens ein paar Stücke geklimpert hätten.