2002: Our apartment--after
2002 : notre appartement - après
2002: Unsere Wohnung - nachher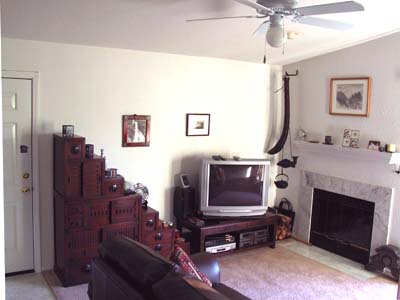 With some of our goodies from Japan, a TV ...
Grâce à l'arrivée de nos colis du Japon ainsi qu'à l'achat d'une télé ...
Dank unserer Schiffsladung aus Japan sowie einem Fernseher ...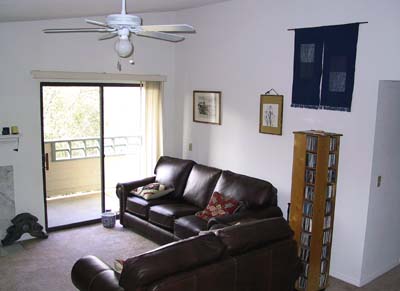 ... and our leather sofas, the living room has really become livable.
... et de divans en cuir, notre salon est devenu très confortable.
... und neuen Ledersofas ist unser Wohnzimmer nun endlich bewohnbar.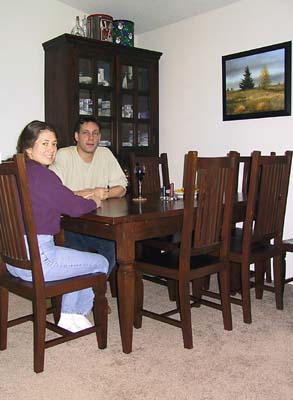 The dining room didn't even exist before we got ourselves a table and chairs as well as a nice china cabinet. On the wall is a painting that my parents gave me for my 40th birthday. It adds the perfect touch of color to this corner.
Le coin salle à manger n'existait même pas avant l'achat de mobilier adéquat. Papa et maman reconnaîtront la belle peinture qu'ils m'offrirent pour mon 40e anniversaire. Elle rehausse l'endroit idéalement.
Ohne die passenden Möbel gab es diese Esszimmer-Ecke erst gar nicht. An der Wand hängt übrigens das Ölgemälde, das meine Eltern mir zum 40. Geburtstag schenkten. Es bringt diesem Raum den fehlenden Farbakzent.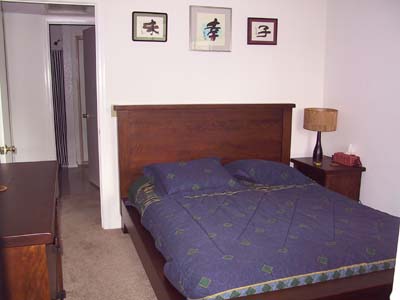 The bedroom, too, has been transformed into a cozy living quarter.
La chambre à coucher s'est enfin transformée en un îlot de calme.
Das Schlafzimmer hat sich nun auch in eine Insel der Ruhe verwandelt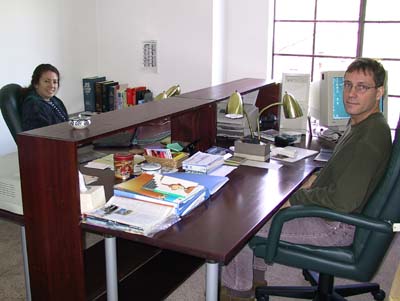 These are the two L-shaped desks we built. Now this is an office worthy of that name. What a change from working on the floor with cardboard boxes as tables!
Voilà enfin un bureau digne de ce nom. Notez bien les deux tables en forme de L, que nous avons construites nous-mêmes. Dire qu'avant, nous travaillions assis par terre avec pour tables des cartons.
Endlich ein Büroraum, den man getrost so nennen darf. Die beiden selbstgebauten L-förmigen Tische tun sich ganz gut, wenn man bedenkt, dass wir vorher auf dem Boden saßen.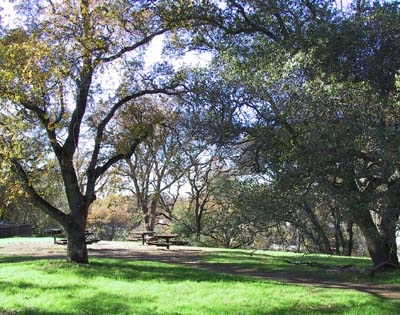 The beautiful apartment grounds are a lavish stretch of soothing greenery, just minutes away from town. The many picnic areas, shaded by California oaks, have become one of our favorite lunchtime hangouts.
Le merveilleux parc dans lequel se situe notre appartement constitue un petit Eldorado de verdure à quelques minutes de la ville. Les nombreuses aires de pique-nique ombragées par des chênes californiens se prêtent volontiers à une pause de midi.
Der atemberaubende Park, der unsere Wohnung umgibt, ist ein grünes Paradies, das nur ein paar Minuten von der Stadt entfernt ist. Die zahlreichen Picknickplätze eignen sich hervorragend für eine wohlverdiente Mittagspause.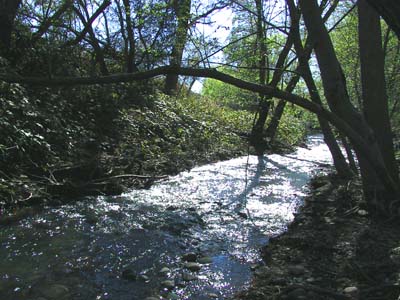 In addition to the many trees, the two creeks that run right along either side of the apartment grounds attract all sorts of wildlife, including turkeys, foxes, bobcats, and deer.
Tout comme les nombreux arbres, les deux ruisseaux qui longent le complexe de part et d'autre attirent toutes sortes d'animaux sauvages, y compris dindons, renards, lynx et chevreuils.
Die vielen Bäume sowie die beiden Bäche, die beidseitig die Siedlung abgrenzen, ziehen allerhand Wild an; darunter Truthähne, Füchse, Luchse und Rehe.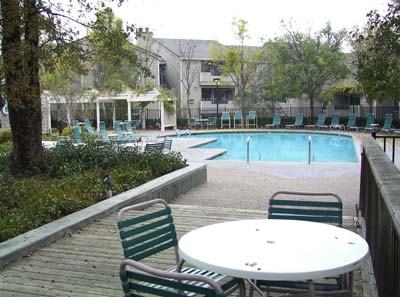 Here is one of the two pools on the apartment grounds, but the water isn't warm enough yet.
Voici l'une des deux piscines appartenant au complexe, mais on n'y nage pas encore.
Hier ist eines der beiden Schwimmbäder, die der Wohnsiedlung angehören, doch zum Schwimmen ist es noch zu früh.