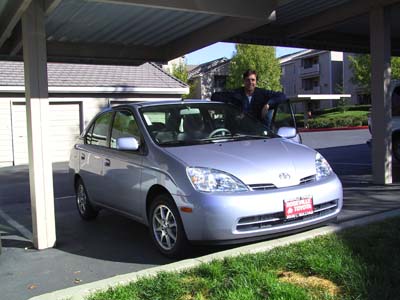 By the way, this is our Toyota Prius 2002--a real powerhouse in its own way. Thanks to its clever hybrid system, which combines an extremely efficient little gas engine with an electric motor/generator, we're doing a whopping 40 mpg--more than double what most of our fellow motorists do around here.
Puis, voici notre Toyota Prius 2002 - une véritable boule d'énergie. Grâce à son ingénieux système hybride, qui combine un moteur/générateur électrique à un petit moteur à combustion particulièrement efficace, sa consommation moyenne est de 6 litres uniquement. Ce résultat est plus que deux fois supérieur à la moyenne américaine!
Und dies ist unser Toyota Prius 2002 - ein kleines Kraftwerk. Dank seinem klugen Hybridsystem, das einen besonders sparsamen kleinen Ottomotor mit einem Elektromotor/Generator kombiniert, beschränkt unser durchschnittlicher Benzinverbrauch sich auf sage und schreibe 6 Liter. Das übertrifft den amerikanischen Durchschnittswagen um mehr als das Zweifache!