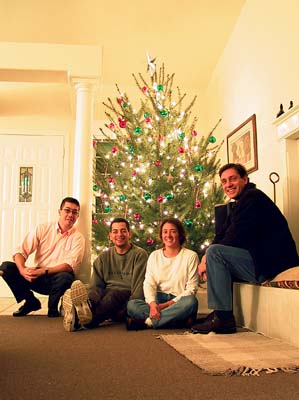 Meet our generous hosts Howard (left) and Jason (right), who put us up--and put up with us--while we were frantically looking for a new home. After hearing such opposite advice, we couldn't help but hit it right in the middle. Thanks for your help and support, guys!
Rencontrez nos généreux amis Howard (à gauche) et Jason (à droite), qui nous ont hébergés et assistés pendant que nous cherchions un appartement. C'est sans doute grâce à leurs avis diamétralement opposés que nous sommes parvenus à trouver le juste milieu.
Kurze Vorstellung der freundlichen Gastgeber, die uns während unserer Wohnungssuche großzügig beherbergt und beraten haben: Howard (links) und Jason (rechts). Die beiden hatten derart gegensätzliche Vorstellungen, dass wir nicht umhin konnten, die goldene Mitte zu treffen.