Here is the latest of what's been going on over here---except for the construction, of course. (You'll find more on that here.)
Voici quelques photos des événements les plus récents -- mis à part la construction évidemment. (Cette page-là se trouve ici.)
Hier endlich ein paar Fotos mit dem Neuesten aus unserem Leben -- abgesehen vom Hausbau. (Mehr dazu hier.)
Since the most recent photos are always added at the top, this diary starts at the bottom of the page.
Notez que ce journal débute en bas de page, car les photos les plus récentes sont ajoutées en haut.
Da die neuesten Fotos stets oben hinzugefügt werden, beginnt dieses Tagebuch eigentlich ganz unten.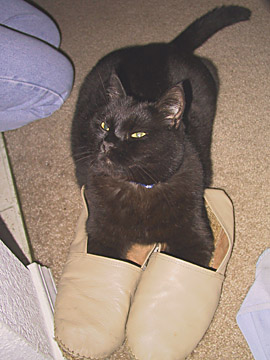 May 2005
We have started packing for our move, and Kitty is ready to go. See more here.
Nous avons commencé à faire nos bagages. Kitty, elle, est prête à déménager. Voir plus ici.
Wir haben langsam zu packen begonnen. Kitty ist für den Umzug parat. Mehr hier.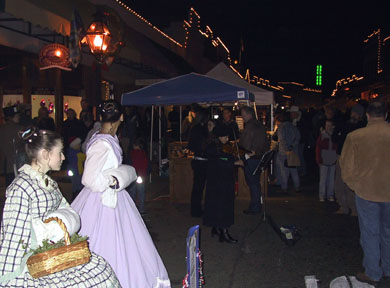 December 2004---Cornish Christmas in Grass Valley.
Click here for more photos.
Décembre 2004 -- Marché de Noël "cornique" à Grass Valley.
Cliquez ici pour plus de photos.
Dezember 2004 -- "Kornischer" Weihnachtsmarkt in Grass Valley.
Hier klicken für weitere Fotos.
This is the pumpkin we carved this year. Since it's also carved on the backside, it projects a picture on the wall. Click here for more.
Voici le potiron que nous avons sculpté cette année. Le côté arrière est également sculpté afin de produire un reflet lumineux sur le mur. Cliquez ici pour voir d'autre photos.
Hier ist der Kürbis, den wir dieses Jahr geschnitzt haben. Da die Hinterseite auch bearbeitet ist, wird zusätzlich ein Bild auf die Wand projiziert. Hier gibt's noch einige Bilder zu sehen.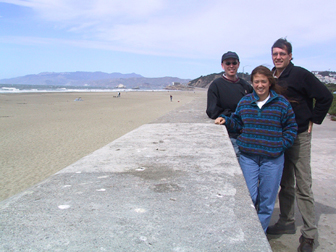 September 2004---We had a great time in San Francisco with our friend Peter, who just moved from Japan and was on vacation in the Bay area.
Septembre 2004 -- Nous avons passé d'agréables moments à San Franscisco avec notre copain Peter, qui vient de déménager du Japon.
Juli 2004 -- Wir haben uns in San Francisco mit unserem Freund Peter getroffen, der gerade aus Japan heimgekehrt ist und in der gegend zu Besuch war.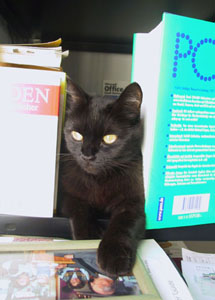 July/August 2004---This is KITTY, our new office assistant. She's quite a bookworm, as you can see. The poor thing was abandoned right here in our neighborhood a few weeks ago. Although it took some time to get her accustomed to her new home, she now faithfully appears for dinner every night and leaves again after breakfast. There's no telling what she does the rest of the day. We suspect that she's living a double life. She's definitely an outdoor cat, but she's housebroken too. Hopefully she's going to be a good mouser when we move. Click here for more photos of Kitty.
Juillet/août 2004 -- Voici Kitty, notre nouvelle secrétaire. Un véritable rat de bibliothèque, si l'on peut dire cela d'un chat. La pauvre bête a été abandonnée ici dans le voisinage il y a quelque temps. Au début, il a fallu un peu de patience, mais maintenant elle arrive régulièrement pour le souper et repart après le déjeuner. Ce qu'elle fait entre les deux reste un mystère. Nous supposons qu'elle mène une double vie. Kitty est un chat d'extérieur. Elle est propre à l'intérieur. Nous espérons qu'elle attrapera beaucoup de souris quand nous habiterons à la campagne. Cliquez ici pour voir d'autres photos de Kitty.
Juli/August 2004 -- Dies ist Kitty, unsere neue Sekretärin. Sie ist ein wahrer Bücherwurm, wie man hier erkennt. Das arme Ding ist einfach hier in der Nachbarschaft hinterlassen worden. Es hat zwar anfangs etwas Geduld verlangt, aber nun erscheint sie regelmäßig zum Abendessen und verschwindet wieder nach dem Frühstück. Es bleibt uns ein Rätsel, was sie inzwischen anstellt. Wir vermuten, dass sie ein Doppelleben führt. Die meiste Zeit verbringt sie im Freien. Drinnen ist sie stubenrein. Hoffentlich ist sie auch ein guter Mäusefänger, denn das können wir gebrauchen nach dem Umzug. Für mehr Fotos von Kitty hier klicken.
July 2004---As we were scouting a portion of the North arm of the American River to see if we could kayak it, we discovered this little waterfall. Although at this time of the year, there was only enough water left to keep some wild mint, Indian rhubarb and moss growing, it was still a great sight. Now, we want to see it in the fall or spring.
Juillet 2004 -- Lors d'une promenade de reconnaissance le long de la branche nord de l'American River, afin d'explorer la possibilité d'une descente en kayak, nous avons découvert cette petite chute d'eau. Quoiqu'il n'y eut plus que juste assez d'eau pour un peu de menthe et rhubarbe sauvages, ce fut néanmoins une belle vue. Nous sommes curieux de la revoir en automne ou au printemps.
Juli 2004 -- Bei einer Erkundungswanderung entlang dem Nordarm der American River haben wir diesen kleinen Wasserfall entdeckt. Obschon zu dieser Jahreszeit schon nur noch gerade genug Wasser für etwas wilde Minze und Rhabarber fließt, war es dennoch ein schöner Anblick. Nun möchten wir diese Stelle auch im Herbst oder Frühjahr besuchen.
July 2004---Folsom holds its traditional 4th of July cattle drive. This is when the old town temporarily goes Wild West again. In addition to the usual enactments, there was also a real cowboy wedding this year. Click here for more photos.
Juillet 2004 -- A l'occasion de la fête nationale, la vielle ville de Folsom se retrouve dans la Far West. Traditionnellement, un troupeau de vaches est mené à travers le centre-ville. En plus des sketch habituels, il y eut cette année un vértiable mariage de cowboy. Cliquez ici pour en voir plus.
Juli 2004 -- Zum Anlass des Nationalfeiertages kehrt die Folsomer Altstadt in den wilden Westen zurück. Zum traditionellen Viehtreiben gibt es außerdem Schießereien und andere Sketsche. Dieses Jahr hat sogar eine echte Cowboy-Hochzeit stattgefunden. Hier klicken, um mehr Bilder zu sehen.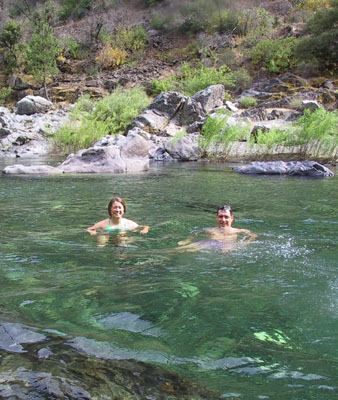 June 2004---On a hike on the Indian Creek Trail, we discovered this great swimming hole in the American River. It was a welcome refreshment on this hot day. Click here for more photos of this hike.
Juin 2004 -- Lors d'une marche le long de l'Indian Creek Trail, nous avons découvert cet agréable bassin dans l'American River. Quel beau rafraîchissement quand il fait si chaud ! Cliquez ici pour voir d'autres photos prises lors de cette marche.
Juin 2004 -- Bei einer Wanderung auf dem Indian Creek Trail haben wir dieses Schwimmbecken im American River entdeckt. Was für eine tolle Erfrischung an solch heißem Tag! Hier klicken, um mehr Fotos von dieser Wanderung zu sehen.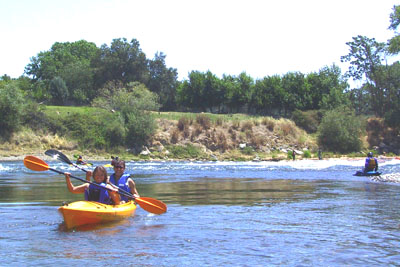 June 2004---Kayaking has become one of our new hobbies. We're serious enough about it that we bought this tandem. Here we're just coming down a rapid on the American River outside of Folsom. Click here to meet Karen, our kayaking companion, and discover a few other places we've gone to.
Juin 2004 -- Le kayak est devenu un de nos nouveuax passe-temps. C'est sérieux au point que nous avons acheté ce tandem. Ici, nous venons de descendre un rapide sur l'American River non loin de Folsom. Cliquez ici afin de faire connaissance avec Karen, notre compagne de kayak, et de voir quelques autres endroits.
Juni 2004 -- Kajak fahren ist eines unserer neuen Hobbies. Wir meinen es Ernst genug damit, dass wir uns dieses Tandem angeschafft haben. Hier haben wir gerade eine Stromschnelle auf der American River außerhalb von Folsom hinter uns. Hier klicken, um Bekanntschaft mit Karen, unserer Kayak-Begleitung, zu machen und einige andere befahrene Stellen zu besichtigen.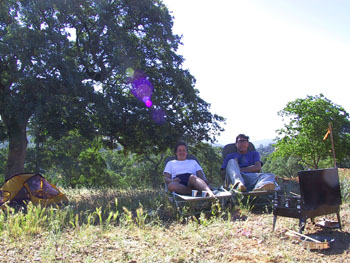 May 20004---We decided to go camp a few days on our lot, not only to get a chance to experience a couple of nights there but also to observe the sun's movement throughout the day. This was going to help us decide on the best orientation for the house and the best locations for a garden and orchard. It was also a good opportunity to test the solar oven we had just constructed. The test results were very positive. We now use it every time we spend the day on the lot.
Mai 2004 -- Nous avons campé quelques jours sur notre terrain, question d'y avoir passé quelques nuits et d'observer le mouvement du soleil pendant la journée. Cette information aura servi à fignoler l'orientation de la maison et à trouver l'emplacement idéal pour le potager et le verger. Ce fut également une bonne occasion pour mettre à l'épreuve le four solaire que nous venions de terminer. Le résultat du test fut très positif, si bien que nous nous en servons chaque fois que nous passons la journée sur le terrain.
Mai 2004 -- Wir haben einige Nächte auf unserem Grundstück gezeltet, um einen Vorgeschmack zu erhalten. Außerdem wollten wir den Gang der Sonne während des Tages etwas näher beobachten, um die optimnale Lage des Hauses sowie der Gemüse- und Obstgärten feststellen zu können. Wir mussten auch unseren soeben fertiggestellten Solarofen testen. Dieser hat die Probe bestens bestanden. Wir kochen nun immer darin, wenn wir den Tag auf dem Grundstück verbringen.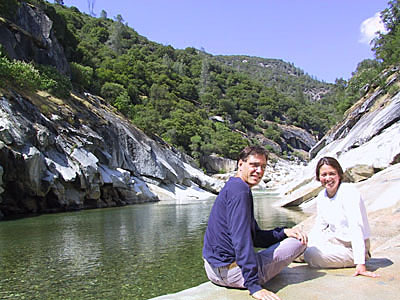 April/May 2004---We went on a great hike on the Independence Trail along the Yuba River. Click here for more photos of this hike.
Avril/mai 2004 -- Une splendide marche sur l'Independence Trail le long de la Yuba River. Cliquez ici pour voir d'autres photos prises lors de cette marche.
April/Mai 2004 -- Eine wunderbare Wanderung auf dem Independence Trail entlang der Yuba River. Hier klicken, um mehr Fotos von dieser Wanderung zu sehen.
Return
Retour
Zurück