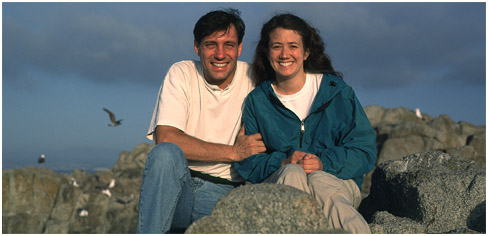 Hi!
Thank you for visiting.
We are the webmasters of this site. Her name is Mari Ward; she's from Kokomo, Indiana. My name is Benoît Schütz; this half-French/half-German mix comes from Belgium, a very scenic little country in the heart of Europe.
After living and working in Hamamatsu, Japan (where we met), for almost 10 years, we moved to California. We're both self-employed in the technical writing and translation business. Mari writes and translates various technical documents from Japanese into English, while I translate automotive and other technical material from English into German and the other way around.
If we're not too busy with work, we're either hiking, biking or kayaking, cooking or eating, watching movies, meeting with friends or traveling. If there is any time left, I try to devote myself to photography, painting, or strumming the guitar a little.
If you're interested, please visit our travel photo gallery with pictures from around the world, or my sumi-e gallery. Drop us a line and tell us how you liked it. Even better: if you liked it, tell your friends about it.
Enjoy now, and please come again!
Mari & Benoît
Our family and friends may also enjoy these few links:
- This new page is a little photo diary of "recent events".
- This new page is an ongoing diary of the construction of our house. At last, it has started!
- This older page shows maps and photos of our land.
- This older page shows our last days in Japan and the beginning of our stay in Folsom (California) as well as Christmas in Indiana and Belgium.
Back to Home